Nicole, Bekah, Bekah's mom, Hannah
Nicole, Bekah, Bekah's mom, Hannah
Nicole, Bekah, Bekah's mom, Hannah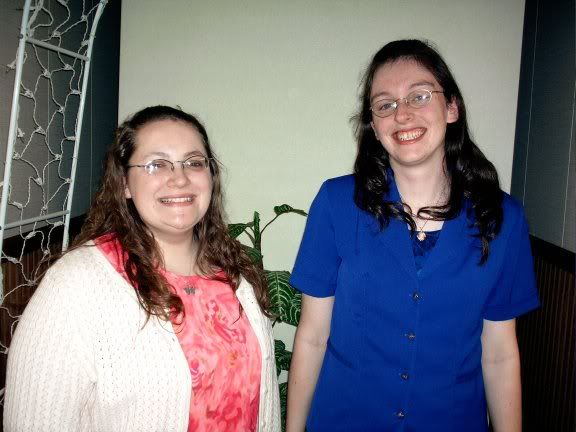 Nicole and Bekah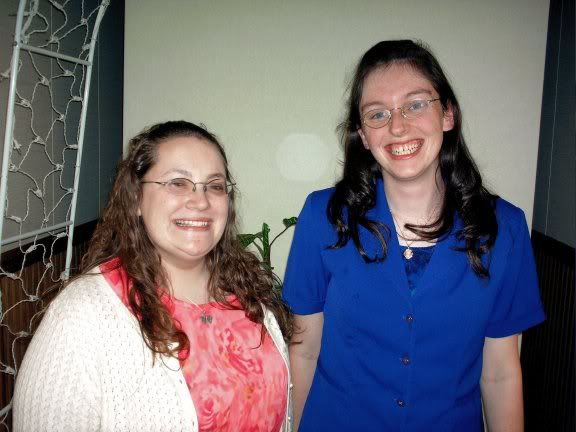 Nicole and Bekah
Alright. Now for the long awaited update.
All last week was an amazing Preaching Conference. It was a very busy week as well. Then, Friday was a day off of classes for the academy and college, so I worked a full shift (I traded Tuesday and Friday hours). I worked at the day care from 9am-6pm and then I worked my cleaning job from 6:20pm-11:30 pm. I got up at 4:40 am on Saturday to get ready to leave. We left about 5:20 am. The trip itself was not very long at all, only about an hour and a half since there was little traffic out at that time. When we got to Bekah's house, her mom and brother (Ben) had breakfast almost ready (delicious pancakes), then Bekah and here mom did some errands while I took a little nap. Then, we got ready for the Ladies Banquet. Her mom and sister (Hannah) were table hosts and furnished some very beautiful tables, as well as the other ladies in the church. Her dad and brothers (the other is Seth) helped serve with some of the other men.
The banquet was very nice. Hope you enjoy the pics! We did!
Her mom kicked the boys out of the house and into the camper and we stayed in the boys' room. Seth (11) likes to talk and nearly talked my ear off! Ben (15) is a very talented artist in many ways, from drawing, carving, and building. Hannah (14) likes to write and had some very nice poems. I enjoyed her parents' stories at meal times. We all laughed very hard! The meals were very good too. I did try something sort of unusual, though: homemade pineapple, mushroom, pepperoni, and sweet potato pizza, mine minus the pineapple and mushrooms. It wasn't bad at all!
The Sunday services were nice too. I was warmly accepted and greeted by the folks of the church. I even made some new little friends (some of the kids in the church). One of the little girls, so I'm told, talked about me all weekend! She was such a sweety and even wanted me to sit by her during the evening service. Please pray for a lady named Geneva (78). She fell in between Sunday School and the morning service and broke 3 ribs and punctured a lung. We all felt so bad for her. Praise the Lord a paramedic attends the church and was able to help her.
All in all, It was very relaxing (I took no school work with me!) and I did not have to work at all. My schedule was very open and it felt nice. I needed that refresher!
Oh, Saturday night , we started to watch the The Printing and Sunday afternoon we watched Time Changers. We (Bekah, Ben, and I) played out own version of "In a Pickle", a game that was in the boys' closet. Oh, did we have a blast!
I hope you had a great weekend as well!